On Feb. 9, 2022, five leaders from the Sengkang Central Citizens' Consultative Committee (CCC), Inter-Racial and Religious Confidence Circle (IRCC) and Constituency Office presented the Sengkang Central Appreciation Award to The Church of Jesus Christ of Latter-day Saints at its Compassvale Chapel for Church members' dedicated volunteerism and support rendered to communities in the Sengkang and Punggol residential areas in northeastern Singapore.
Chairman Koh Juay Meng of the Sengkang Central CCC led the group visit and presented the award, along with a photo frame capturing members' Light the World service in 2019. He was joined by Chairman James Teo of the Sengkang IRCC, Mr Nazrul Tarik, Constituency Director of the Sengkang Central Constituency Office under government statutory board People's Association and two other grassroots leaders. Additionally, a gift hamper of oranges was presented in the spirit of the Lunar New Year.
Singapore Stake President Jean-Luc Butel received the recognition on behalf of the Church. He was accompanied by Stake Public Affairs Council Director Michael Ang and other members of both the Council and the Compassvale Ward.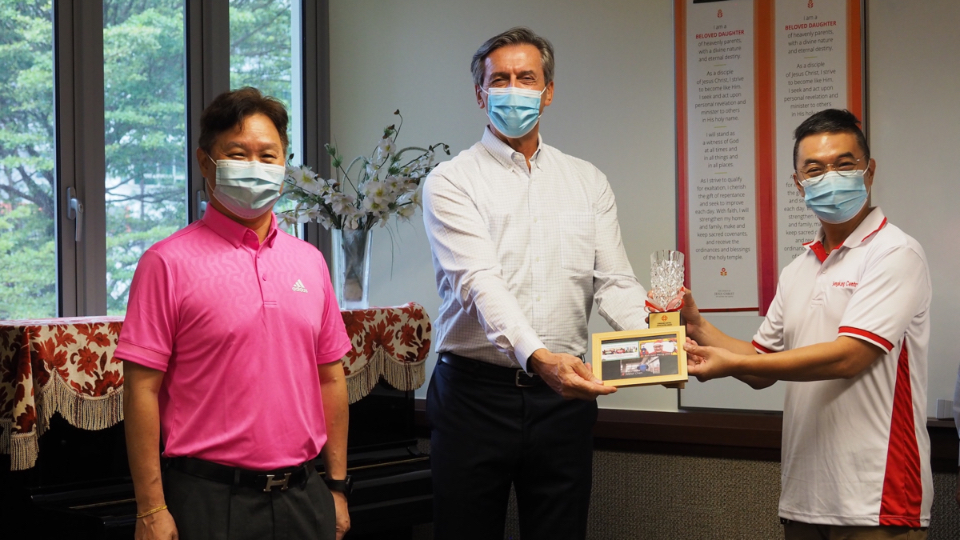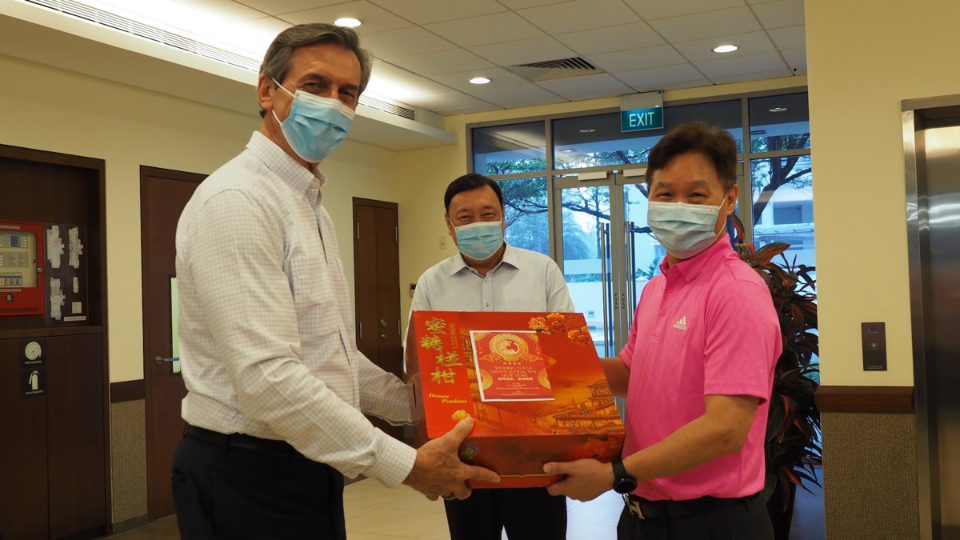 The recognition is the result of the Church's consistent contribution to the community, particularly its long-term "Saviors of Sengkang" ongoing series of service projects. Since 2017, Victor Chen and Norman Chia, who are both deputy directors of the Singapore stake public affairs council and members of Compassvale Ward, led many of their ward members to serve the community. Their diligent effort has helped the Church build deep ties with interfaith, grassroot and community leaders in Sengkang and Punggol residential areas over the years. 
Chia shared his feelings about participating in the "Saviors of Sengkang" Initiative, "Being involved in the community has opened my eyes and I think about how much more good can be done if we all just played a small part to serve the people around us."
Chia gave a tour of the Compassvale meetinghouse to the guests, which included the chapel, multipurpose hall and classrooms. He explained how meetings and classes were conducted, how Church leaders set up safety distancing measures and the uses of the multipurpose hall. The guests were particularly impressed with the versatility of the hall to host Sunday school classes, stage performances, basketball games, and badminton games. It closely resembles multipurpose halls in Community Centers, allowing for activities that can bring people together and build community spirit. 
Chia fondly recalled how the hall was used before the pandemic to host elderly beneficiaries for a Christmas meal with musical and dance stage performances – an initiative which the grassroots leaders recalled well and were grateful for.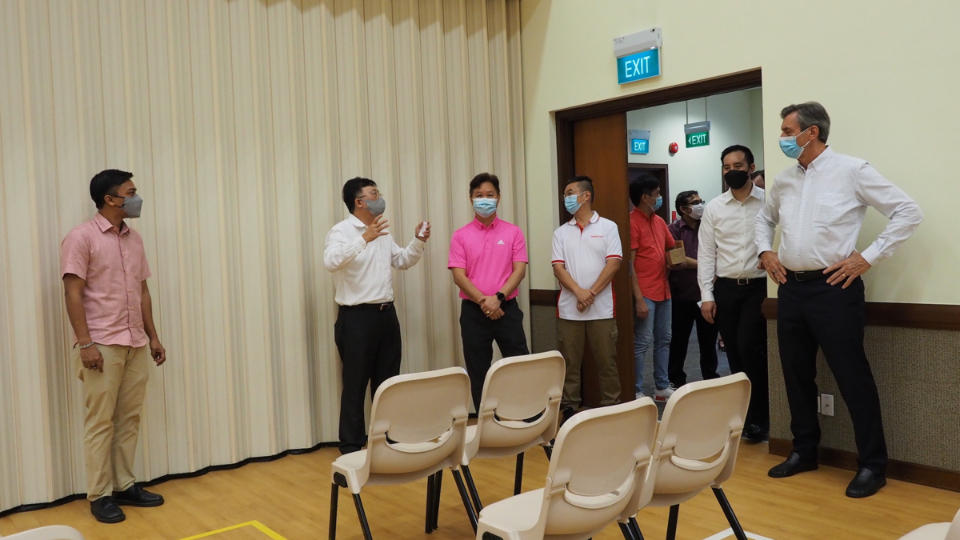 A short dialogue was held thereafter about what it means to be a community. President Butel shared three things he felt encapsulated what community is: participation, respect and acceptance. These principles can guide individuals as they get involved to build a stronger community. Chairman Koh agreed that this creates a sense of belonging and integration in any community and strongly advocated that all races and religions need to help each other, especially during this pandemic. He invited the Church to once again be involved in community service projects and activities when restrictions allow.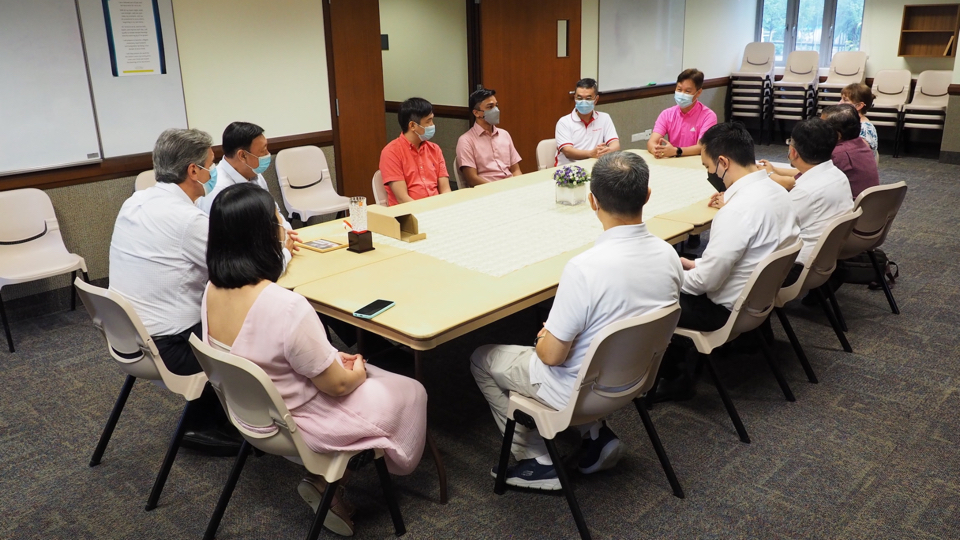 Ang mentioned that the Church will be more than willing to help with its many talents, established programs and desire to serve. He brought up the Church's self-reliance program, taught and run by experienced facilitators who are Church members, which he believed would be an asset to any community outreach program that teaches skills to benefit their residents. 
He also raised the historic Iftar, a joint event organized by the Church and Jamiyah Singapore (Muslim Missionary Society Singapore), where both sides' representatives, along with government officials, diplomats, grassroots leaders, and religious leaders from various faiths broke the Muslim daily Ramadan fast together in the Church's stake center. It was the first of its kind where an Iftar was held in a Christian church, demonstrating the kind of unity that can exist in a divided world. Ang suggested organizing another Iftar at the Compassvale Chapel, an idea well received by the grassroots leaders who believed it could reinforce ties with the mosques and other religions in the area.
The dialogue concluded the visit and gave both the Church and community leaders a chance to gain a greater understanding of each other, strengthen relationships, and further cement the shared vision: to build an integrated community where every group regardless of race or religion can help each other and live in harmony and unity.