Members of The Church of Jesus Christ of Latter-day Saints and Jamiyah Singapore, also known as Muslim Missionary Society Singapore, joined on May 27, 2019 to break the fast together at the Church's meetinghouse on 253 Bukit Timah Road. It was a historic occasion for the two faiths, as it was their first time jointly held Iftar in a Christian meetinghouse.
Elder David F. Evans, Asia Area President of the Church and Dr. Mohd Hasbi bin Abu Bakar, president of Jamiyah Singapore, led the Iftar event that involved 700 members and friends from both faiths. Other senior Church leaders include Area Seventies Elder Leonard Woo and Elder Stephen Lai, as well as Singapore Stake President Jean-Luc Butel. Also present were government officials, diplomats, grassroots leaders, and religious leaders from various faiths in Singapore.
"Today, more than ever before, against the backdrop of terrorism and extremism, there is greater need and urgency to strengthen interfaith collaboration and collective action," Dr. Mohd Hasbi said.
He pointed out that one key solution to mitigate the regularity of crimes and violent acts is for all to accept and respect the principle of unity in diversity, regardless of race, nationality and religion.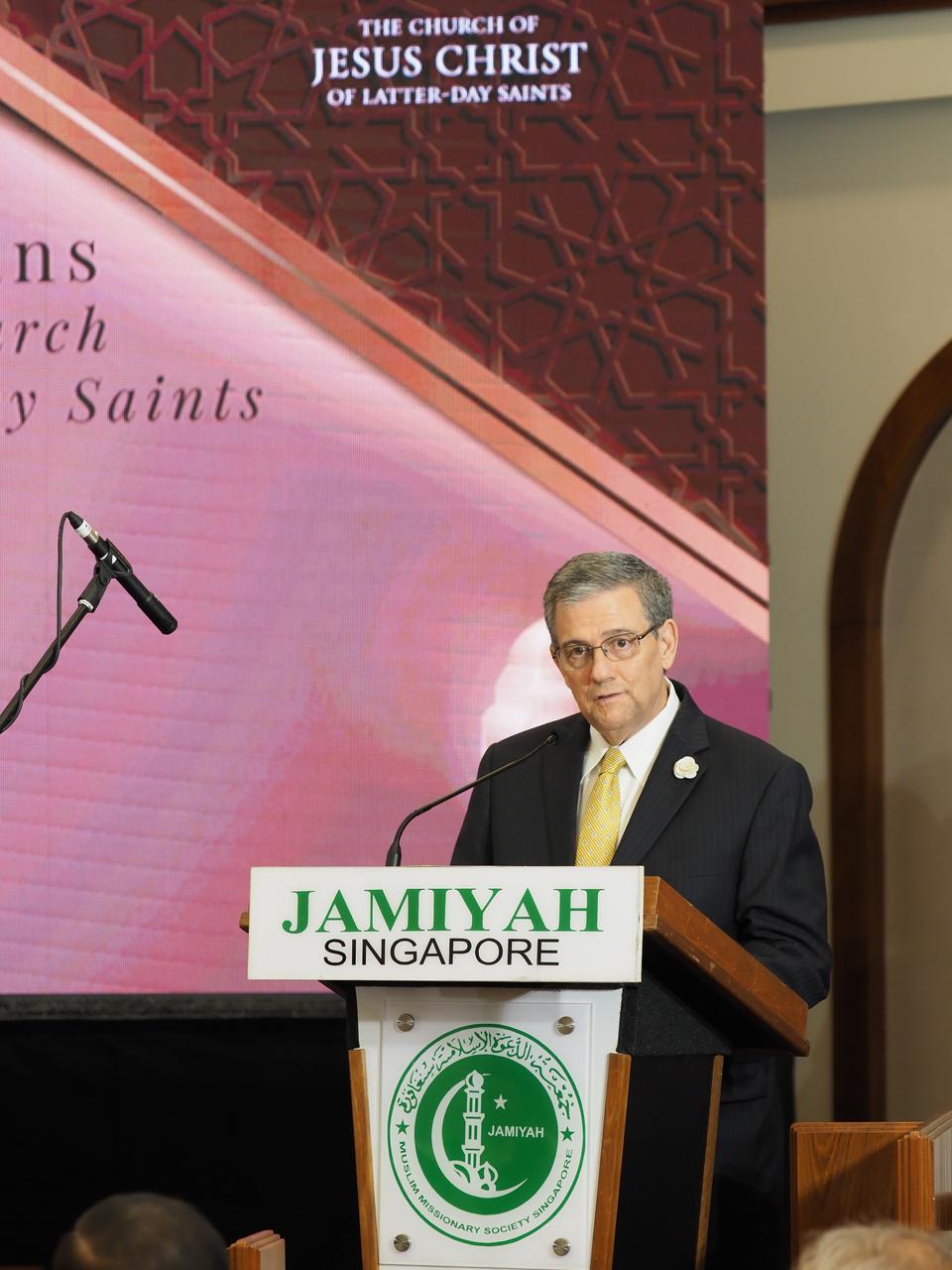 Elder Evans agreed that the world today often places greater emphasis on the differences that divide people rather than those things that bring harmony and respect.
"If we seek understanding and take time to look closely, there are many things that can and do bring us together," he continued. "When observed with charity and understanding, these intersections of faith, practice, and custom can and will bring a feeling of unity and purpose."
He said the practice of the principle of fasting is one of those remarkable intersections.
Both members of the Church and Muslims fast regularly. While the Church members fast once a month for a whole day, Muslims fast daily during the Ramadan month from dawn to sunset. They both fast to increase their spiritual purification and closeness to God. Additionally, during the fasting period, they both donate money to help the poor and needy.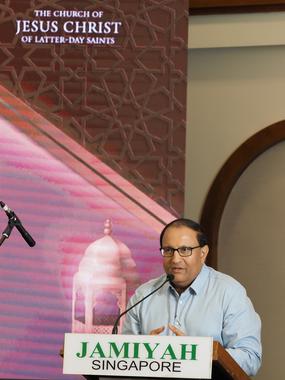 Special guest for the evening Mr. S Iswaran, Minister for Communications and Information, appreciated this initiative to strengthen interfaith harmony in Singapore.
"The more we build bridges, the less we build fences," he said. "The more we promote trust and the less we sow distrust, and the more we learn to work together rather than work apart from one another, I think that all goes well for Singapore as a society, as a nation. And also in our own small way, we can make an impact on the world and the challenges that we face as a global community."
Guest of honor, Member of Parliament Melvin Yong, was also pleased to see many community leaders from other faiths in the evening. He said the multiracial and multi-religious harmony of Singapore that was exemplified in the event did not happen by chance, but by decades of conscious effort by the nation and that the peace that was created should not be taken for granted.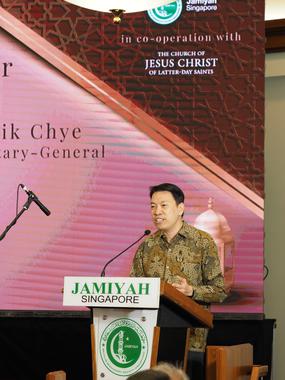 "It is therefore important that Singaporeans have the information and knowledge about the things that are considered sacred by our respective racial and religious communities," he stated. "With the right guidance and practice, mutual respect and mutual understanding can be enhanced to strengthen our racial harmony."
He said he hoped the respective ethnic based grassroots civic organizations, religious institutions and government agencies together with the private sector can continue to come on board to maintain this peace.
"Only with peace can we talk about building an economically prosperous nation," he said.
Jamiyah Singapore and the Church have partnered in several service projects in the past. They have enjoyed creating greater good together and hope to encourage more interfaith dialogue for other faiths in Singapore.
For more information about The Church of Jesus Christ of Latter-day Saints and Jamiyah Singapore, please visit www.lds.org.sg and www.jamiyah.org.sg
This event was covered by local newspapers and TV stations. Please click here for details:
Online Newspapers
Strait Times
Rice Media
www.ricemedia.co/current-affairs-features-mormons-invited-muslims-break-fast-church-jamiyah-singapore
Tamil Murasu
www.tamilmurasu.com.sg/top-news/story20190528-29175.html  
TV Stations
CNA: https://youtu.be/lrKVqfQa424
8 World News (Chinese): https://youtu.be/ZTvKcR6TxfI
Berita Media Corp (Malay): https://berita.mediacorp.sg/mobilem/eksklusif/ramadan2019/gereja-buka-pintu-jadi-tuan-rumah-500-warga-islam-berbuka-puasa/4286588.html