The Church of Jesus Christ of Latter-day Saints in Singapore and Jamiyah, also known as the Muslim Missionary Society of Singapore, celebrated over a decade of interfaith friendship and cooperation with a donation handover ceremony on March 18, 2022, at the Jamiyah Food Bank. For their latest joint service project, local members donated rice, cooking oil and instant noodles – the top three needed items for the Jamiyah Food Bank.
Ceremony dignitaries included Datuk Dr. Mohd Hasbi Abu Bakar and Dr. H. M. Saleem, who are the president and 1st vice president of Jamiyah. Professor Sean Patrick Rozario, chairman for Moulmein-Cairnhill constituency's Inter-Racial and Religious Confidence Circle, and his vice chair Chua Lai Teck were also present. 
Church representatives included Asia Area President David Homer and Singapore Stake President Jean-Luc Butel. President Butel spoke about seeing a part of Jamiyah he had not been familiar with and expressed concern for those in Singapore who struggle with basic food needs. He noted, "We are collectively very blessed in our lives, but not everyone has received the same blessings. . .To join forces together for this good cause is a great thing."
Although local Church representatives are familiar faces at Jamiyah, it was the first visit for Elder Homer, who is based in Hong Kong. Jamiyah had traditional kompang (hand frame-drum) performers in festive wear welcome him rousingly with their instruments.
 

Dr. Hasbi addressed the participants, explaining how the COVID-19 pandemic led to a surge in beneficiary numbers to 4,000 across 14 grassroots organizations they work with. He also shared statistics of the hidden poverty in urban Singapore, where over 100,000 people may experience food insecurity.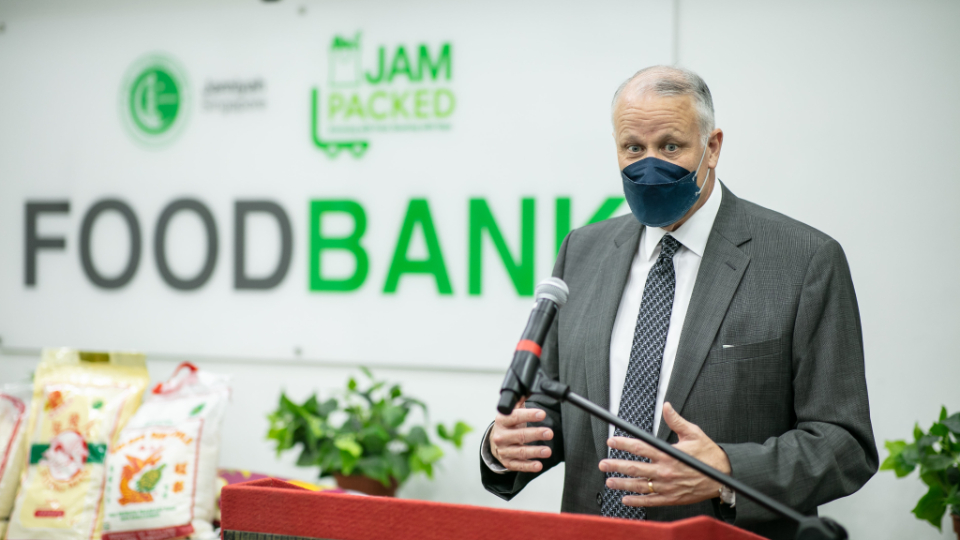 Elder Homer outlined examples of how both faiths promote mutual respect and share common beliefs: a living and loving God, heritage and values from Abraham, sacred scriptures, prayer as a path to the divine, fasting and caring for our bodies, appropriate relationships between men and women, reverence for families and the establishment of holy places to feel God's presence.
Elder Homer stated, "Doing what you do here is so critically important because it brings to those who have not, the basic needs to sustain their lives and allow them to participate in the other things that make us the same." He ended his speech by recounting how honored he felt to be amongst the ceremony participants and be able to witness and acknowledge the small contribution local Church members were able to make.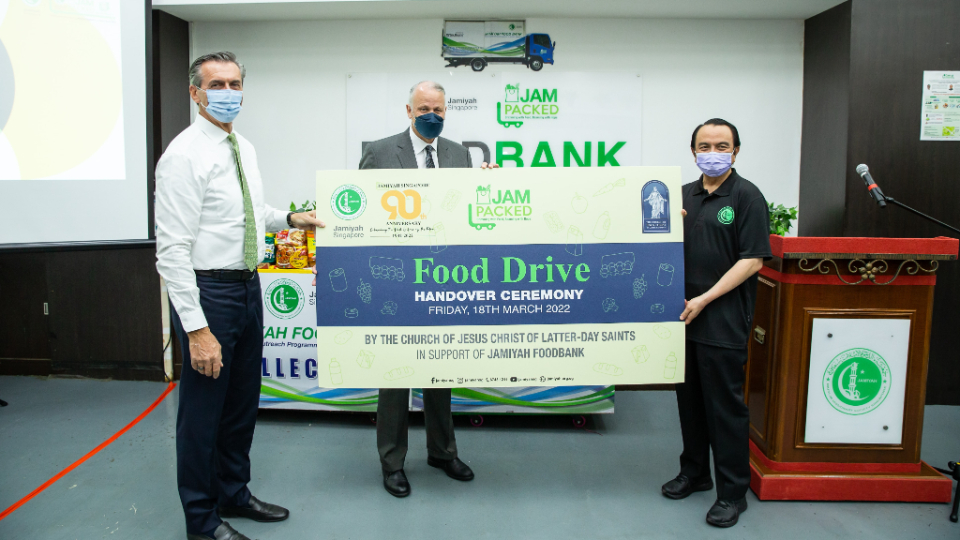 After the speeches, Elder Homer and President Butel personally gave large ration bags, which included local Church members' donations, to three Jamiyah beneficiaries and conveyed their best wishes to the individuals and families.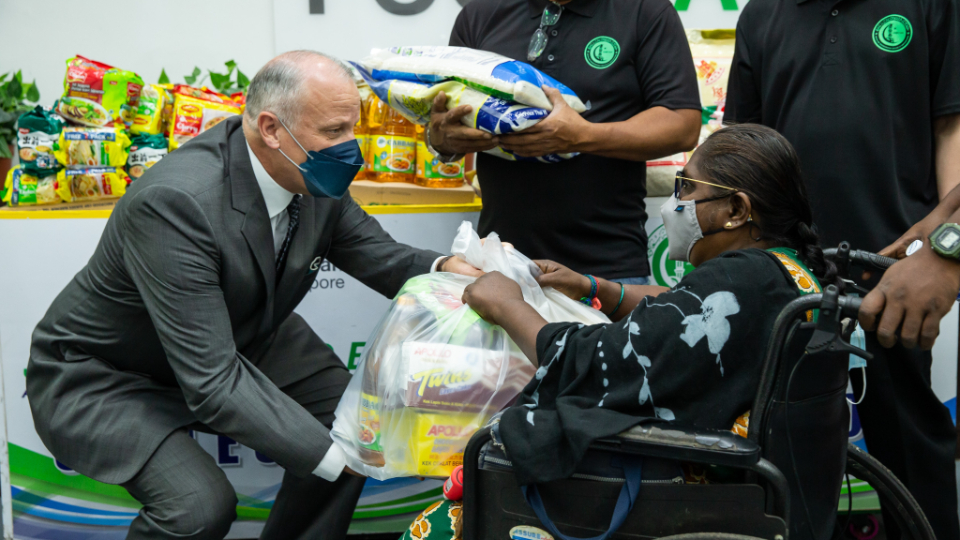 The Food Bank opened in 2014 as an expansion of Jamiyah's regular free food distribution services to lower income households. It has collaborated with the local Church as recently as December 2021 for the latter's "Light the World" service project.