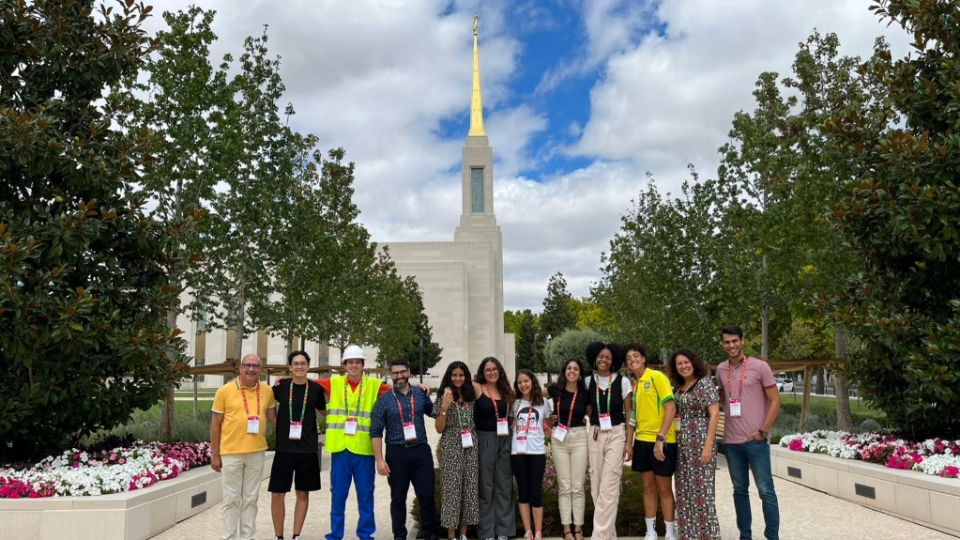 Young Adults from The Church of Jesus Christ of Latter-day Saints in the Church's Seminary & Institute southern region of Portugal participated in the 17th global World Youth Day (WYD) in Lisbon 1-6 August 2023. WYD is a gathering of thousands of young people, 18-35 years of age, from all over the world, highlighted by a visit by His Holiness Pope Francis.
The weeklong recurring religious festival includes themes of "pilgrimage" and "celebration of youth."
Although World Youth Day is Catholic in origin, WYD welcomes youth from every country, race, religion, and nationality.
The opening day of WYD began with a musical programme, "Singing for Peace," and included performances by groups from many faiths. Young Adult dancers from The Church of Jesus Christ of Latter-day Saints presented a musical number­­­­­­­­­­­­­­­­­­­­­­­­­ titled "We Are One" lead by singer Jerson Santos, with the support of local Latter-day Saint ecclesiastical leaders, the For Strength of Youth music organization and the Voice of Youth. Throughout their participation in this conference, many of the young people related that they had memorable experiences interacting with members of other religions and cultures.
13 year-old Ema Moura talked about the lasting impact of World Youth Day, "I felt that when we are united, we can achieve great things. During this event, I felt that our friendships were strengthened and that we will be connected throughout our lives. It was a great experience that I will never forget."
Alehandra Severino, 18 years old said, "Participating in this World Youth Day by representing my church and my beliefs was really important to me. This event helped me to grow in different areas, especially socially. I am shy and introverted, but through the help of the leaders I was able to feel confident and so happy. This was a great memory that will stay with me forever."
Gonçalo Caneca, also 18 years old, expressed his feelings this way, "By participating in "Canto pela Paz" I was able to meet other people with different beliefs. Also, I could share with them my own beliefs which was a great feeling. I also had a great feeling by seeing different people from different cultures together to talk and sing about peace, love and unity. Even though I felt like I didn't know how to dance really well, my leader (the choreographer) helped me trust myself and I was able to dance and represent The Church of Jesus Christ of Latter-day Saints on stage. It was an important moment that I will never forget."
On arriving in Lisbon, Pope Francis met with Marcelo Rebelo de Sousa, President of Portugal, and other civil and international religious leaders including Joaquim Jorge Oliveria Moreira, an interfaith representative of The Church of Jesus Christ of Latter-day Saints, in the Belém Cultural Centre in Lisbon.
The Pope addressed the dignitaries present and rejoiced at being in Lisbon, "a city of encounter that embraces many peoples and cultures…that is grounded in the desire to be open to the world and to explore it, sailing toward new and more vast horizons." He referred to Portugal's seafaring history, noting that Lisbon is bordered by an ocean. He remarked that "the ocean does not merely link peoples and countries, but lands and continents," and "reminds us…to think of borders as places of contact, not as boundaries that separate." He called on the European community to take up the role of "bridge builder" and "peacemaker."
Joaquim Jorge Oliveria Moreira was interviewed on the CNN television channel and talked about contact with The Church of Jesus of Latter-day Saints with the Catholic Church and Pope Francis. During the programme, Moreira referred to the meeting at the Vatican in March 2019 between Russell M. Nelson, President of The Church of Jesus Christ of Latter-day Saints and Pope Francis, at the time of the dedication of the Rome Italy Temple. The significance of that audience for the Latter-day Saints was getting to know Pope Francis and for His Holiness "to know us and finding we have so many points in common," said President Nelson at the time.
"The differences in doctrine are real," President Nelson said. "They are important. But they are not nearly as important as things we have in common – our concern for human suffering, our desire for and the importance of religious liberty for all of society, and the importance of building bridges of friendship instead of building walls of segregation." President Nelson described Pope Francis as a "dear, wonderful, humble, competent, gracious man, I respect him highly."
In August 2023, Joaquim Jorge Oliveria told CNN television about his own experience with His Holiness Pope Francis. He described the Pope as "a man who seeks fraternity and who emphasizes the importance of a joint effort with all religions to establish peace in the world."
As the week of celebrations ended, Pope Francis challenged the youth of the world to work together to resolve conflicts, climate change and other problems facing the world. "I leave you with this thought: walk, and if you fall, get up. Walk with a purpose; train every day of your life. Let us walk in hope, look to our roots, and strive ahead fearlessly," the Pope said.
With a spirit of religious freedom and strengthening of interfaith dialogue, the week was very productive in supporting relationships between The Church of Jesus Christ of Latter-day Saints and the Portuguese Catholic Church, together with other faiths.
​