The holy month of Ramadan presents a great opportunity for members of The Church of Jesus Christ of Latter-day Saints to reach out and serve the Muslim community in Singapore. This year, members of the Compassvale and Newton Wards from the Church's Singapore Stake had the privilege of participating in the 2023 Blessings to All Project. This annual service project is organised by Rahmatan Lil Alamin (RLA) Foundation to share the blessings of Ramadan with vulnerable families and individuals regardless of race, faith or background.
In the month of April, Compassvale Ward members worked side by side with volunteers from the Al Mawaddah Mosque to distribute grocery vouchers and goodies to 50 families in the Sengkang area. Working together with Masjid Tasek Utara, Newton Ward members similarly distributed vouchers and goody bags to 47 families. This year marks the first collaboration between the Compassvale Ward and Al Mawaddah mosque, while this is the fourth year that the Newton Ward has worked together with Masjid Tasek Utara on the project.
LaVon Lew, the Church's local Communications Director, shared, "Ramadan is a special time for our Muslim brothers and sisters and is an especially meaningful time to reach out. Being part of this collaboration and working together with the mosques helps strengthen trust and relationships between the different faiths to build a strong community."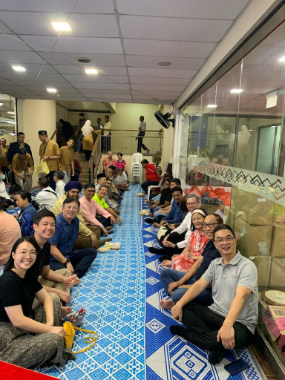 In the spirit of Ramadan, members of the Church were also invited by various mosques to participate in their 'Buka Puasa' or break fast meal. Members who attended were able to enjoy the fellowship of breaking fast together and gained a better understanding of the customs and practices of the Muslim faith. It was also a unique opportunity to build friendships and connections with other Muslim participants.
Joyce Chan from the Compassvale Ward added, "We are so thankful for this opportunity to interact with members of other faiths and to talk about their beliefs and practices. This is so important as mutual understanding brings about deeper respect and strengthens the fabric of our community."