The Church of Jesus Christ of Latter-day Saints marked its 50th Anniversary in Singapore with a high-energy commemorative musical and cultural celebration on Sept. 28, 2019, joined by performances from the Baha'i, Sikh and Hindu faiths. The Good Garden program told the story of the seeds of faith that have borne fruit of the gospel of Jesus Christ in the lives of Singaporean Church members, nurtured in the fertile garden of Singapore as it has risen to prosperity.
Elder Peter F. Meurs, first counselor of the Asia Area Presidency of the Church, and Singapore Stake President Jean-Luc Butel, led the two-performance event attended by a combined audience of an estimated 1400 members and friends from other faiths. Other senior Church leaders included Area Seventy Elder Stephen Lai and Singapore Mission President Leonard Woo. Also present were government officials and religious leaders from various faiths in Singapore.
President Butel opened the programs by first recognizing the guests of honor, Melvin Yong, Member of Parliament Tanjong Pagar Group Representation Constituency (GRC) at the matinee and Dr. Janil Puthucheary, Member of Parliament Pasir Ris-Punggol GRC, at the evening performance.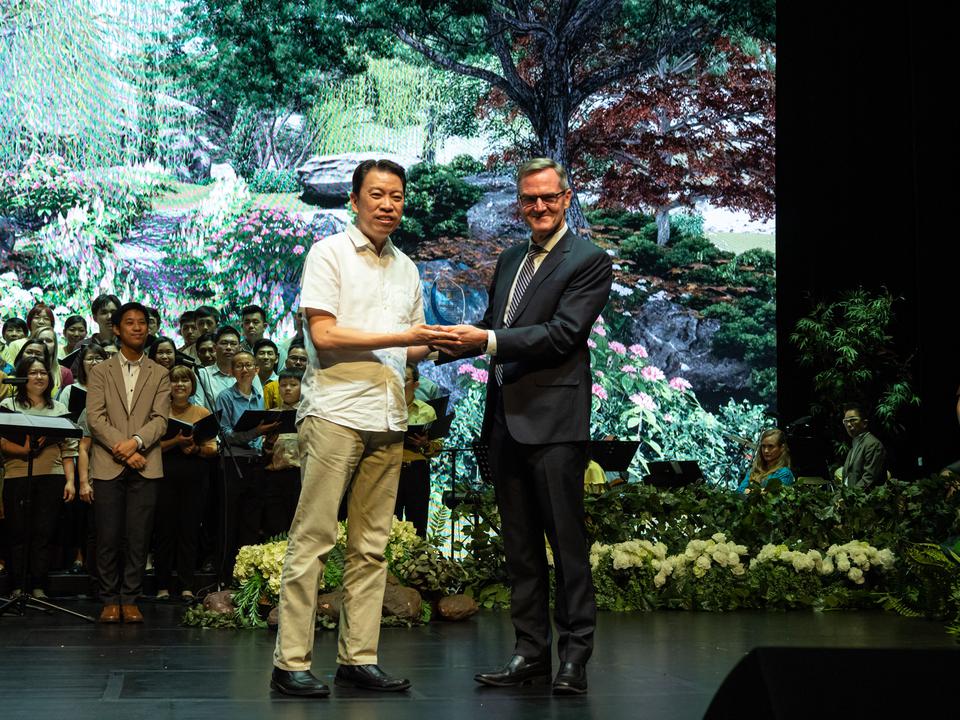 Gordon Foo, a cast member, was among the original pioneers of the Church in Singapore. He joined in 1969, the same year the Church was officially established in Singapore.
"I remember attending a Sunday school class under a tree, because there was not enough room in the bungalow," Foo reflected. "My heart is full of gratitude as I have seen three generations of my family so richly blessed by the gospel of Jesus Christ. We have also been able to provide the opportunity for gospel blessings to our ancestors, completing 72 generations of family history work dating back nearly 2000 years." One of Foo's lines from the script stated, "the Ultimate Gardener is always there to prune, water and nurture each one of us." Foo attests this has been true for him and his family.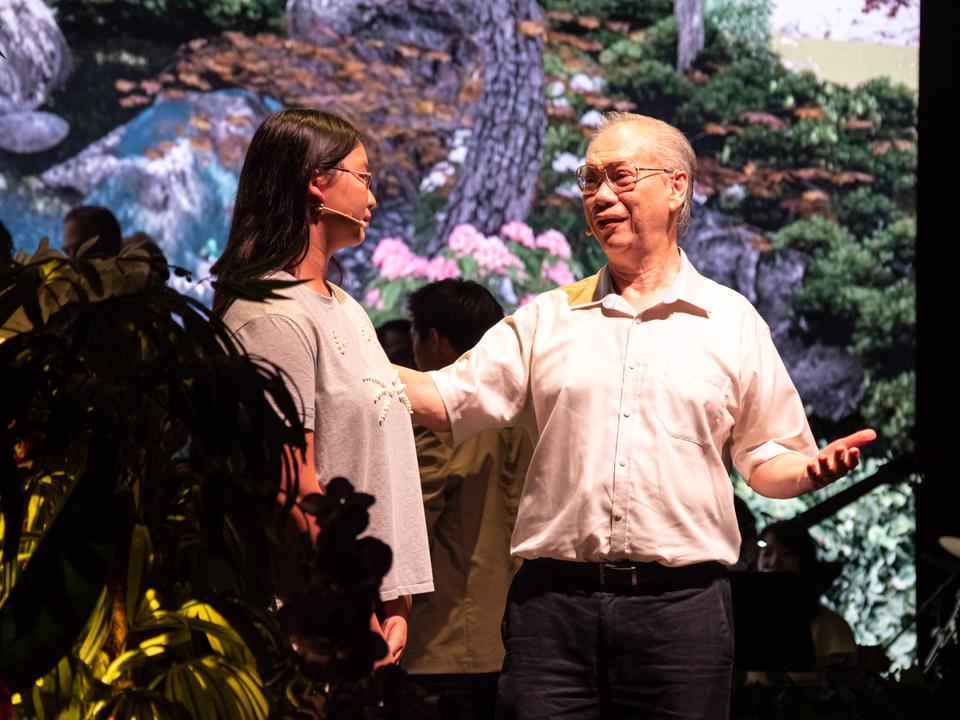 Eric Woon, Chair of The Good Garden production, learned first-hand what a major undertaking it is to organize a show of this magnitude.
"Without hesitation, what has stood out more than anything to me is the spirit of volunteerism," he said. "People that we approached to help out—to sing or perform—everyone just volunteered, putting in thousands of hours of practice and preparation. That's a good sign for the Church, that our members are so committed."
Woon's comments were reinforced by Greg Petersen, the Music Chair for the production. "I was in awe of the dedication, devotion and sacrifice put forth by all involved. I see how hard these individuals have worked. We all put forth our very best effort, and then the Lord stepped in and magnified us beyond what we ever could have expected to achieve on our own."

The show included a series of acts and local guest artists that depicted the 50-year history of the growth of the Church in Singapore, from humble beginnings in the early days, to connecting and strengthening families, to spreading love through service in the community and finally becoming a force for good in the diverse nation of Singapore and beyond.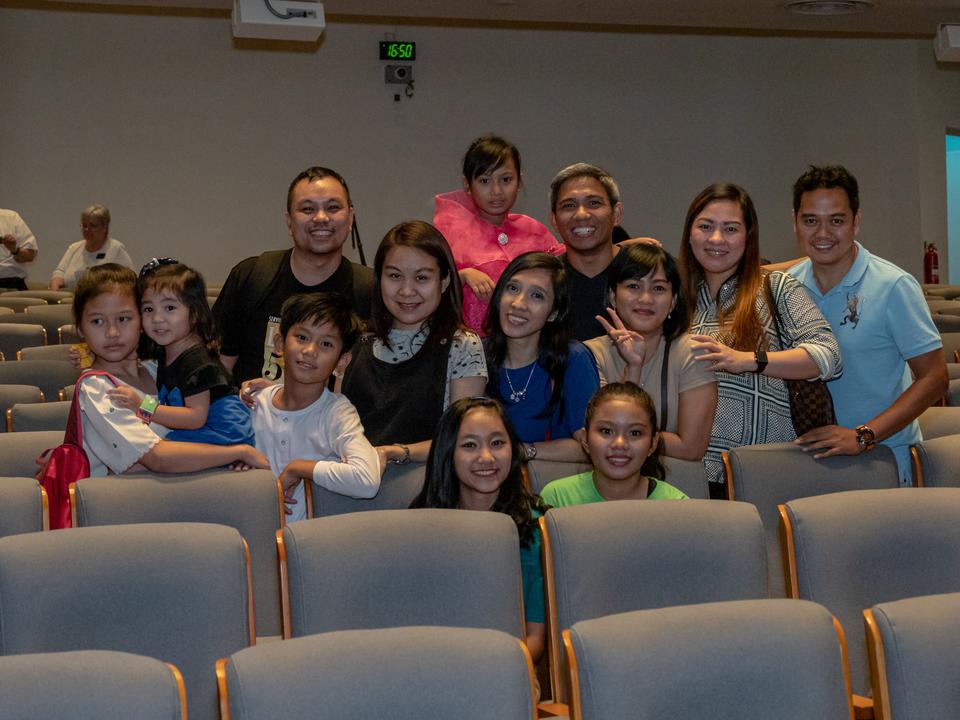 The Good Garden was a third pillar of three major events that have taken place throughout this year to commemorate the Church's 50th Anniversary, organized under the direction of Victor Chen, the 50th Anniversary Committee Chair. The first ever Iftar breaking of the fast was held at the Church's stake center on May 27, 2019, jointly conducted with Jamiyah Singapore, the Muslim Missionary Society of Singapore. Then on August 3, 2019, "A Day of Remembrance and Reunion" was chaired by AC Ho, a Singaporean Church pioneer himself. Over 200 were in attendance, including former mission presidents, missionaries who served in Singapore and Singaporean Church pioneers and members.
Countless hours of service rendered by Church members have surrounded the three commemorative pillar events.
"This year we had a goal of 50,000 service hours. So far, we have notched approximately 28,000 hours," Chen said. "It's a worthy goal, but more importantly, service has become a very natural way of life to our members."
He further emphasized, "What we have heard from our interfaith partners is that the Church can always be counted on to join in providing service. We are recognized for our good works and ability to contribute."
As a very clear indication of relationships built, Mr. Kuek, the Baha'I Assembly Chairman, announced on stage when introducing his group's number, "When we first received the invitation from the Church to come and join in the celebration and participate, without any hesitation, we said, 'Yes!' We want to join the celebration and the fun!"

Elder Meurs concluded both programs stating, "We love Singapore. What a beautiful, vibrant, successful place. We love the peaceful integration of cultures and races here and appreciate the harmony, cooperation and fundamental values that have contributed to Singapore's success and prosperity. We are grateful for the support of religious freedom."
He further said, "We truly feel that we can stand side by side here as people of faith. We hope that this 50th celebration is recognized by all as a symbol of ongoing religious harmony, mutual respect and finding ways to work together."