Members of The Church of Jesus Christ of Latter-day Saints joined volunteers from three other religious organizations to befriend seniors for a day at the recent inter-faith event called "Harmonies in Sync". They worked with members from Masjid Al-Istighfar Mosque, Arulmigu Velmurugan Gnanamuneeswarar Temple (AVGMT), and the Tampines Chinese Temple to take care of 30 seniors on wheelchairs from the Bethesda C.A.R.E. Centre.  The location was the Gallop Kranji Farm Resort.
 Purpose of the event
The event, organized by the Northeast Community Development Council (NECDC), was to encourage volunteers from different religions to build friendships with one another in the spirit of fostering religious harmony while serving the community.
Mayor: "Doing something different"
Mr. Desmond Choo, mayor of NECDC said, "We wanted to do something very special, very different. We often talk about interfaith relations and dialog, but this event is truly interfaith in action. It's a minor miracle to see different religious groups come together in such a manner to work with those of other races and religions. This is truly interfaith and interracial harmony."
The first activity – explore the resort facilities
The volunteers happily took care of the seniors in small groups.  Three volunteers, one from a different religious organization, were assigned to one senior for the day. 
The first activity was exploring the resort's facilities, including looking at the gardens and the fish in the pond.  Not used to handling wheelchairs, the volunteers tried their best to maneuver them so that the seniors stayed in the shade as much as possible.  The highlight of the outdoor activity was visiting the beehives where the seniors could see the bees through a special viewing box without the danger of being stunk by the bees.
The second activity – mug painting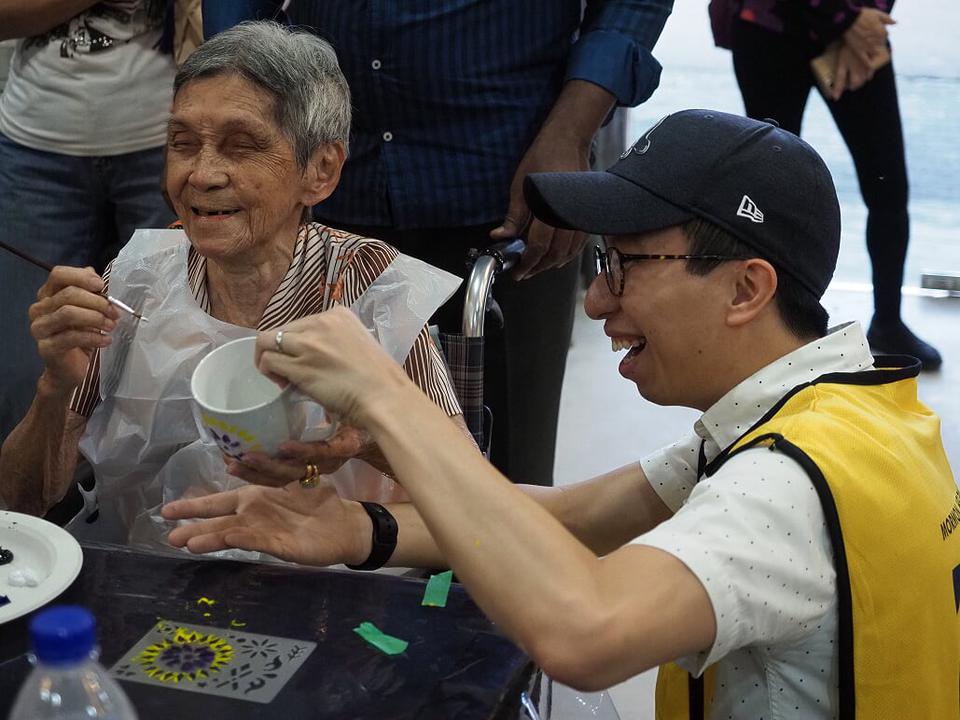 With patient help from the volunteers, the seniors designed and painted their own mugs with acrylic paint.  Many were simply delighted by their own creation.  The volunteers cheered with huge smiles and thumbs up.