On August 6, 2022, The Church of Jesus Christ of Latter-day Saints hosted their first post-COVID Interfaith Community Party at the Church's Stake Center along Bukit Timah Road. This community event, unofficially dubbed the "Durian party" brought friends of many different faiths together to network and enjoy Singapore's "king of the fruits" as well as other signature local fruits. 
There were over 90 attendees at the event. The Guest of Honour was Mr. Alvin Tan, Minister of State at the Ministry of Culture, Community and Youth and the Ministry of Trade and Industry. Professor Sean Rozario, Chairman of the Moulmein-Cairnhill Racial and Religious Harmony Circle also graced the event.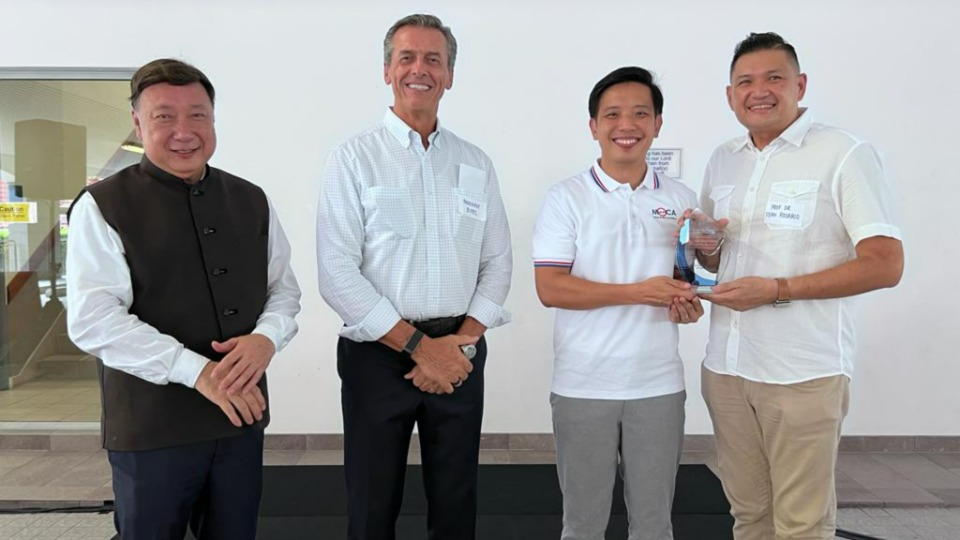 This is the second time such an event has taken place due to keen interest from many community partners who attended the first "Durian party", which was initially held in 2016 to great success and graced by then-Minister for Trade and Industry, Mr. Lim Hng Kiang. This year's event was timely as it happened one week after the Inter-Racial and Religious Confidence Circles' (IRCC's) 20th anniversary celebrations. 
In the anniversary celebration, it was highlighted that IRCCs would be renamed as Racial and Religious Harmony Circles (RHCC) and will soon step up their activities and outreach, to have more regular and coordinated programmes, including flagship ones, to promote more interaction and collaboration between communities with the goal of building trust, understanding and confidence among the various communities in peacetime and in times of crisis1. Events such as the "Durian party" support the objectives of increasing interaction and building trust and understanding.
As guests enjoyed the various fruits, Mr. Alvin Tan spoke about the significance of the new Circles' name. He said, "When [Emeritus Senior Minister] Goh [Chok Tong] build the IRCC 20 years ago, it was what was required after the 9/11 terrorist attacks. The RHCC is a higher order. It is what is needed right now to further strengthen community ties in an increasingly digital world."
Mr. Tan talked about how misinformation spread on social media networks can cause misunderstanding between different religious and racial groups and can quickly descend to deep divides and chaos. He brought up a few real-life examples of such misinformation that has happened in other countries which serves as cautionary tales for Singaporeans to remain vigilant, and highlighted the key role of RHCCs to continue to build and deepen inter-racial and religious ties.
He ended his speech on a lighter note by mentioning the things that bring Singaporeans together, in particular, the upcoming National Day to celebrate Singapore's independence and durian. He invited everyone to enjoy the durians and wished everyone a Happy National Day.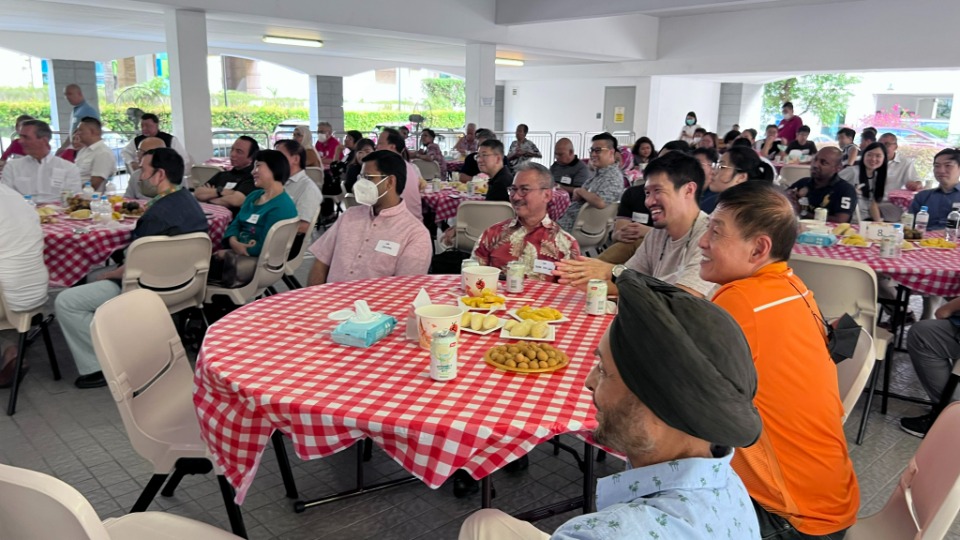 The Church also presented tokens of appreciation to valued community partners to recognize their contribution to strengthening the community and thank them for their good examples of service. Below are the list of partner recipients:
Professor (Adj) Dr Mohd Hasbi Abu Bakar, President, Jamiyah Singapore
Mr Kuek Yi Hsing, Senior Chapter Member, Bahá'ís of Singapore
Mr Tay Eng Kiat, Director General, Soka Gakkai Singapore
Mdm See Guat Kwee, Management Committee Chairperson, Centre for Interfaith Understanding
Mr Mohamed Irshad, Founder, Roses of Peace
Mr Peter Foo, Pastor, Seventh Day Adventist Church Singapore
Mr Rustom Ghadiali, Zoroastrian Priest, Leader of Zoroastrian Faith Singapore
Mr Alfie receiving on behalf of Imam Habib Hassan Al-Attas, head of the Ba'alwie Mosque
Rajesh Shah, Management Committee Member, Singapore Jain Religious Society
Haji Juhari Mohktar, Executive Chairman, Masjid Tasek Utara
Sarjit Singh, Committee Member, Sikh Gurdwara Board
Phra Goh, Monk, Pelelai Buddhist Temple
Han Hee Ping, President, Pasir Panjang Private Estate Residents Committee
Professor Sean Rozario, Chairman, Moulmein Cairnhill Racial and Religious Harmony Circle
After the awards were given, Mr. Tan and President Butel participated in a ceremonial opening of "Mao Shan Wang (Musang King)" durians, regarded as the most delicious and popular durian variety in Singapore. After opening the durians and having a taste, the premium variety was served to the guests.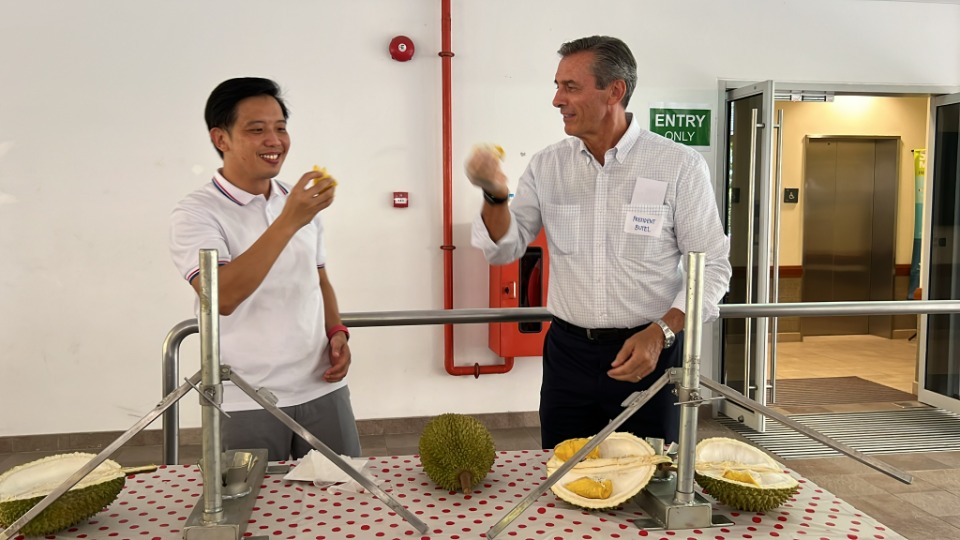 Many guests enjoyed the event as it gave them an opportunity to catch up with old friends and interact with new friends of various faiths. President Butel shared these sentiments, "I felt the entire afternoon ran very smoothly, people looked happy and engaged. But more important than eating durian was the spirit of friendship and belonging to a community that prevailed." This "Durian party" has brought the community closer together and is poised to be one of the Church's flagship events in Singapore to meet the goals of the RHCC.
1 New name for constituency inter-racial and inter-faith groups, with more activities and outreach, 30 Jul 2022, The Straits Times