On December 8, as part of a project to "Light the World," over 60 members from five congregations of The Church of Jesus Christ of Latter-day Saints volunteered to take 30 seniors from the Moulmein-Cairnhill Constituency on a half-day outing. The adventure included a shopping trip, seeing a Live Nativity performance and a visit to "The Marketplace" set up at the Church just for the seniors. The Marketplace included a handicraft activity, caroling, refreshments and a visit by Mr. Melvin Yong, a Member of Parliament and Guest of Honour for the event.
Getting acquainted with the seniors
At first, getting to know the seniors was a little difficult, but smiles and warm handshakes quickly melted away the awkwardness. By the time the volunteers and their assigned seniors got to the shopping mall for shopping and lunch, they were no more strangers.
"I got to know my senior by seeing what she bought with her allocated budget for the shopping activity," shared one volunteer from the Mandarin congregation of the Church.
"Just like my grandmother, the senior I accompanied was thrifty and very careful with her money."
Chris and Sarah Warner brought their two children who happily accompanied their senior during the shopping. "It is so much to do this as a family," said Sarah.
Handicraft work and carols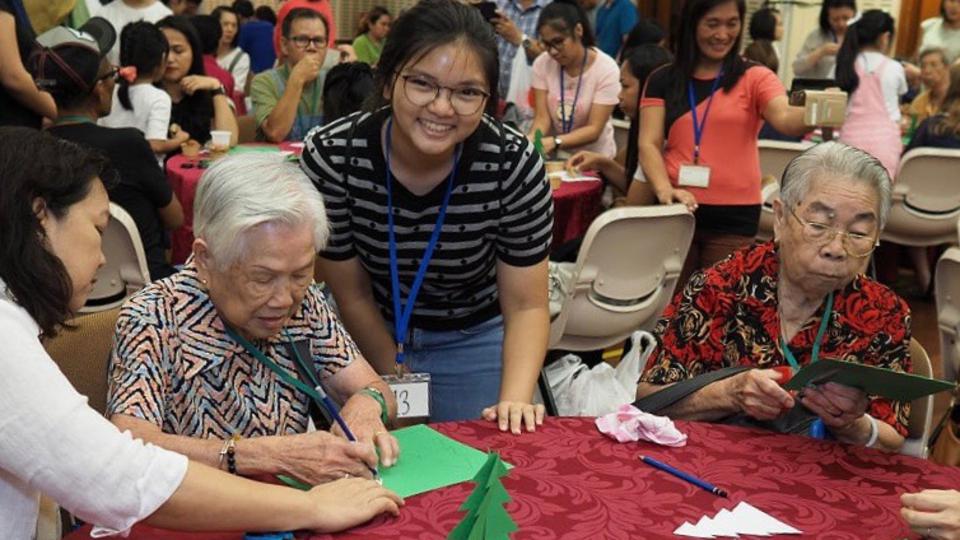 Upon their arrival at the Church building after their shopping trip, the seniors attended a special afternoon performance of the Live Nativity. It was quite the experience for them to see an angel dressed in white proclaiming the birth of the Baby Jesus, not up on a stage, but in a more intimate room setting just a metre in front of them.

The seniors ended up at The Marketplace for refreshments and handicraft work led by Greg Peterson who later also led the singing of Christmas carols. Some of the Church's primary children joined in the handicraft work by helping put the finishing touches on the seniors' Christmas trees. The Church's women's organization made sure that the seniors were fed well.

Receiving hong baos before Chinese New Year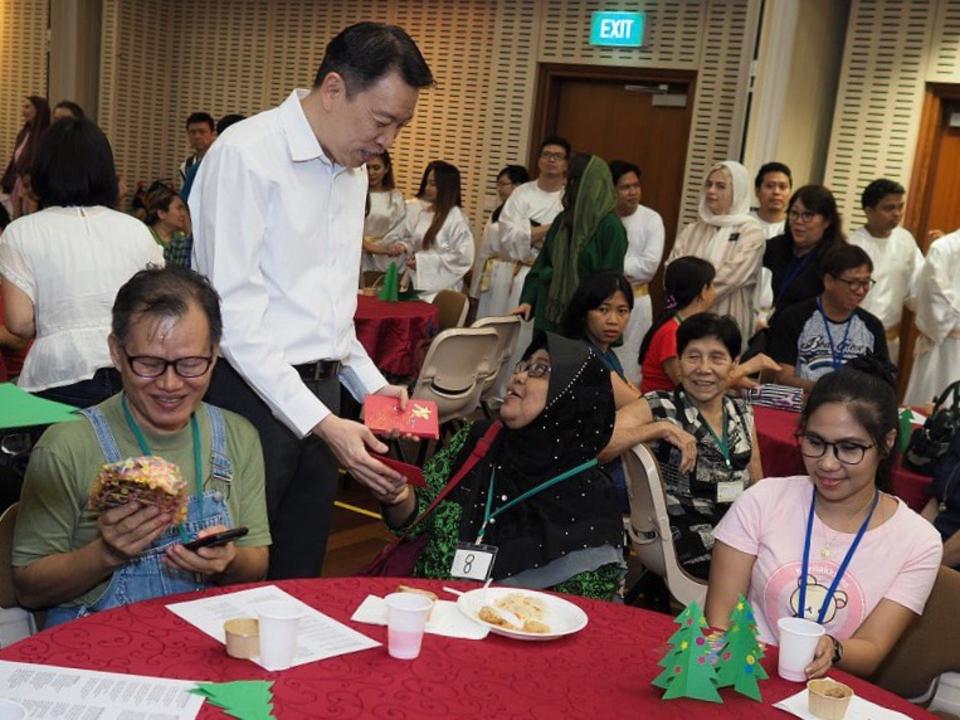 When the Guest of Honour, Mr Melvin Yong, entered The Marketplace, the seniors greeted him with big smiles, since they knew him as their Member of Parliament. After a vigorous round of handshakes, Mr. Yong handed out hong baos (red envelopes containing cash for good luck) to the seniors.
"This is unexpected," one senior said happily. "It is not yet Chinese New Year!"
Feedback from Mr. Yong and the seniors
"A big 'thank you' to the Church for all the efforts made to bring festive cheers to
seniors in my constituency," stated Mr. Yong. "I have enjoyed the distinction of being invited for a second year as the guest of honor for the Live Nativity."
"I would like to adopt your Church's senior care program as a model for other voluntary welfare organizations (WVOs) to follow," Mr. Yong added. "The feedback from the seniors has been overwhelmingly positive. I have been very impressed by the friendliness and understanding demonstrated by your Church volunteers."